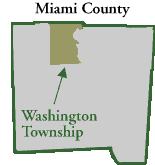 Washington Township
Formed in 1807
The Beers 1880 History of Miami County characterized Washington Township as the smallest, wealthiest and most populous of the townships. Washington borders Shelby County on the north and the Great Miami River flows though its entire length on the east. It was organized with its current boundaries in 1814.
Upper Piqua (near the current Piqua Historical Area/Johnston Farm) is among the earliest inhabited areas of the state. Federal Indian Agent, Col. John Johnston, operated from his home in this area of the township.
The first settlement and village within the township were begun in 1798 by Job Gard, a soldier with General Anthony Wayne. He built a cabin on the Miami River in what is now Piqua. The following year, John Manning bought the site from Gard and by 1804 he was operating a mill.
The city of Piqua was platted in 1807 by Armstrong Brandon. It contained seven houses. By 1837, the Miami Erie Canal was completed from Dayton to Piqua and the city became a major commercial center for all of northwest Ohio.
1880 History of Washington Township. (100.6 K)

---

Copyright 2001 by Computerized Heritage Association
All rights Reserved