---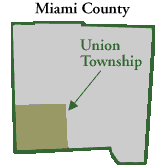 Union Township
Formed July 1807
Union Township, formed in July 1807, is one of the earliest townships in the county. It is bordered by Montgomery County on the south and Darke County on the west. It is crossed by both the Stillwater River and Ludlow Creek upon which Ludlow Falls is located.
Henry Fouts and Leonard and Henry Eller were the first recorded settlers, arriving in Union Township in 1801. Caleb Mendenhall arrived with his family in 1802. In 1805, a significant number of Quakers from Newberry, South Carolina began arriving. Union Township borders Newton Township, which also contained a significant settlement of South Carolina Quakers.
The villages of West Milton, Georgetown (New Lebanon), Potsdam, and Laura are located within the township.
---

Copyright © 1997 by Computerized Heritage Association.
All Rights Reserved.