---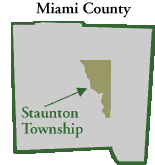 Staunton Township
Formed January 25, 1819
Staunton Township was the first site of permanent settlement within the county. As such, it contains the first plotted town, the first seat of justice, and the oldest cemetery.
The Knoops, Gerards, Hamlets and Tilders were among the earliest settlers of the township in 1798.
The township is crossed by numerous roadways, including the Piqua-Lostcreek Pike, Staunton-Springcreek Pike, Troy-Urbana Pike, Troy-Casstown Pike, Troy-Springfield Pike, and Troy-Dayton Pike. The villages of Staunton and East Troy are located within the township.
Copyright 1997 by Computerized Heritage Association.
All Rights Reserved.