---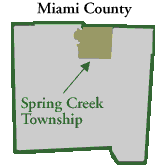 Springcreek Township
Formed June 18, 1814
Springcreek Township borders Shelby County on the north. It is crossed by both the Great Miami River and Spring Creek, from which it derives its name. John Hilliard of New Jersey was the first recorded settler within the township. He arrived in 1797, settling in sections 30 and 36. The Hilliard family home is the oldest remaining architectural structure in both the township and the city of Piqua, in which it now resides. John Dillbone of Pennsylvania settled upon section 1 in 1804/1805.
The township is crossed by numerous roadways, the oldest being the Piqua-Urbana Free Pike (U.S. 36). The principal towns are the villages of Shawneetown (Huntersville), Rossville, and a portion of the city of Piqua.
---
Copyright © 1997 by Computerized Heritage Association.
All Rights Reserved.