---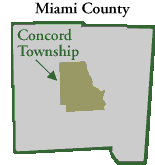 Concord Township
Formed January 1807
Concord Township, organized in 1807, is centrally located within the county. It is crossed by the Great Miami River. The Miami-Erie Canal also crossed the township from north to south. Troy, the seat of county government, is located within the township.

Aaron Tullis and family, from Kentucky, were the first recorded settlers in the township in 1805. William Barber arrived in 1804.

Due to its central location, Concord Township is crossed by numerous roads and highways, including the Troy and Covington Pike, the Troy and Stillwater Pike, the Troy and Frederick Pike, and the Miami and Montgomery Pike. The Miami-Erie Canal also ran along the eastern side of the township through Troy, the township's only city. It was first surveyed in 1807 and contained 87 lots. The log tavern, operated by Mr. Overfield, one of the town's first citizens, is currently operated as a museum.