---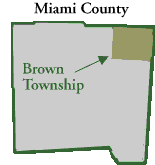 Brown Township
Formed January 25, 1819
Brown Township, located in the northeast corner of the county, is bordered by Champaign and Shelby Counties. It is comprised of thirty sections and remains primarily agricultural. John Kiser of Virginia was the first recorded settler in 1806. He settled in section 30. The following year, John Simmons, a native of Pennsylvania, settled in section 36 with his wife and ten children. The principal towns are the villages of Conover, Lena, and Fletcher. Route 36 crosses the township from east to west.
---
Copyright © 1997 by Computerized Heritage Association.
All Rights Reserved.